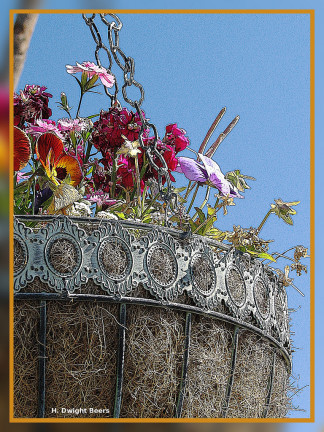 In honor of Oprah coming to Vancouver next week, Shelley Fralic, columnist with "The Vancouver Sun" newspaper wrote a column today Sat. Jan 19th, asking readers to send in a list of their favorite things.
Shelley is one of Ann's muses as I have admired her writing for years, and would be happy with half of her writing talent.
Oprah is one of Ann's inspirational people because of her amazing story of self-realization and because she uses her wealth and power to benefit so many people on earth.
Shelley notes that Oprah is famous for telling us her "favorite things" which can include luxurious items that our out of the price range of most of us. Shelley is asking for some of the best things in life which are free. Or as she says: "what will I miss when I die?"
Shelley's list is in Saturday's paper at www.vancouversun.com. I sent in my list to her, will you send her yours? Email it to: SFralic@vancouversun.com, with "Favorite Things" in the subject line, and they will publish the best ones.
Here's Is My List:
– My dog Rocko asleep at my feet at night, a warm, peaceful, snuggly foot warmer full of love and loyalty.
– Opening my husband's Christmas gifts – small elegant packages of scarves, perfume and bracelets I would never indulge myself with.
– Drinking my herbal tea recipe for what ails me, combining:
one bag of licorice root tea
one bag of spearmint tea
one bag of green tea.
– Eating a bowl of my labor intensive spaghetti. Its' tomato sauce with sliced peppers, celery, onions, garlic, with a big dash of sinus-clearing curry powder.

– Hearing my three sons jamming in the basement – one on bass, one on guitar, and one on drums – music to my ears!

-Planting hanging baskets from starter plants in the spring, and nurturing them till they bloom and spill over the pots in trails of vibrant colors and shapes.

– Escaping the stifling heat of the house in August and laying suspended in my hammock in the back yard in the dying evening sun, with only me and the birds, and a gentle breeze to cool my skin.

– My fur lined winter boots to keep my feet warm and dry in the Canadian winter.

– Making all the green lights when I'm late.

– Looking at the twinkling stars and planets in the night sky after many days of rainfall when the air is spotlessly clear.

Photo credit:http://www.flickr.com/photos/h_dwight_beers/3385236760/ http://www.flickr.com/photos/h_dwight_beers/3385236760/